PRESS RELEASE – February 8, 2017 – We are pleased to announce the launch of @ContixAlerts, a public window into Contix's leading event surfacing platform for traders and investors.
For a limited time, Contix will be publishing a significant set of select alerts from our finance-specific event surfacing engine, which utilizes deep market knowledge and domain-specific algorithms to find actionable news. The full Contix platform provides rich filtering over half a billion social and traditional posts per day, social media and market data context around events (price, volume, sentiment, clustering, etc.) and lightning-fast access to breaking news.
Each tweeted Alert includes representative content, with attribution, and a link to the full alert preview. Users who are not already customers will be presented with access to our free trial.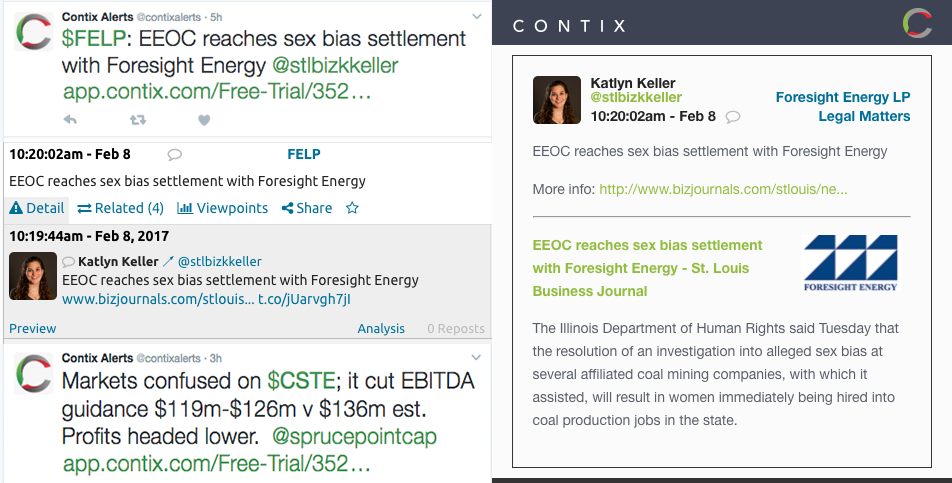 About Contix
Contix is the leading social media event detection platform focused exclusively on actionable news for traders and investors. Contix delivers alerts on market-moving news surfaced from over half a billion posts on social and traditional sources. The company's unique event categorization technology clusters related news from social and traditional sources to maximize breaking news coverage and place news in market context including price, trading volume, discussion volume and sentiment. Working with both institutional and retail traders, Contix helps discretionary equities and commodities traders act on breaking news events to generate alpha.
Media Contact:
Binna Kim, Vested
contix@fullyvested.com
646.747.3223