PRESS RELEASE – December 5, 2016 – We are very pleased to announce a major new feature to Contix – Follow Lists.
Follow Lists enable you to track every message from the best and most useful sources on social and traditional media with virtually zero latency while applying Contix's advanced content tagging and filtering. Follow Lists also enables users to customize their Contix product to make sure that they don't ever miss a message from sources that they want to follow closely.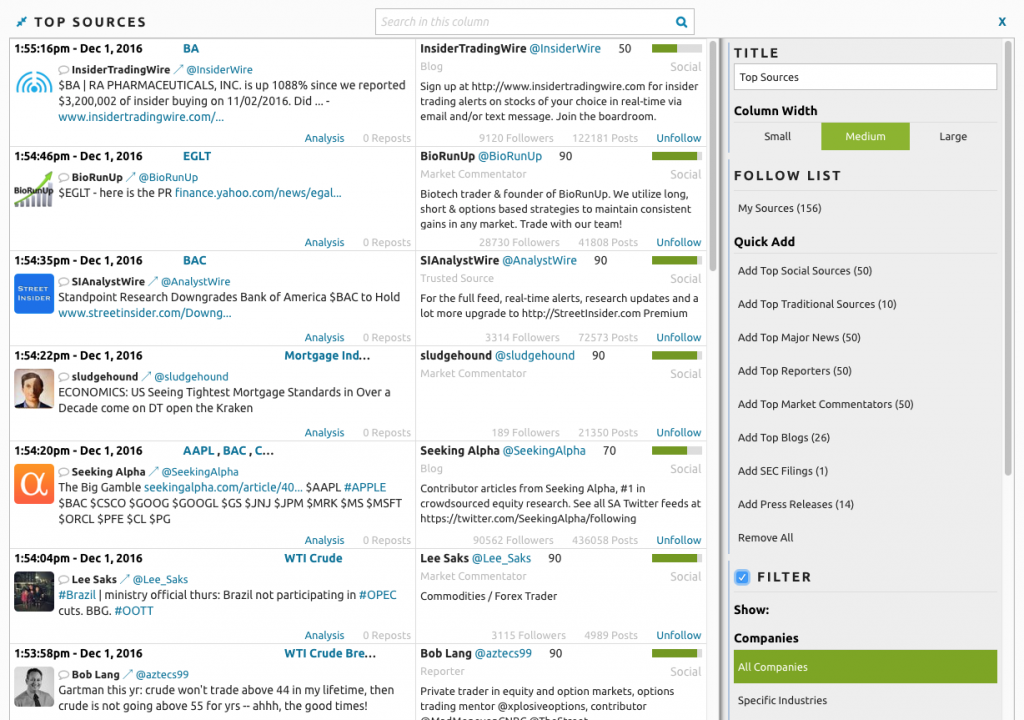 Contix users can quickly populate their follow list with over 200 of the best sources of breaking financial news on social and traditional media identified by the Contix team or can add their own identified sources. Users can also easily follow sources that produce Contix alerts that they find useful by simply clicking "Follow" in the Contix alert.
Follow Lists can be used with existing Alert Columns to provide an even broader up-to-the-second view of what's happening in the markets.
Follow Lists was the most requested product feature by far and we are happy to be able to introduce this feature which we are confident will improve your trading and awareness of what's happening in the financial markets.
About Contix
Contix is the leading social media event detection platform focused exclusively on the financial services industry. Contix delivers actionable alerts on market-moving news surfaced from social media sources. The company's unique event categorization technology clusters related news from social and traditional sources to maximize breaking news coverage and place news in market context including price, trading volume, discussion volume and sentiment. Working with both institutional and retail traders, Contix helps discretionary equities traders act on breaking news events to generate alpha.
Media Contact:
Binna Kim, Vested
contix@fullyvested.com
646.747.3223