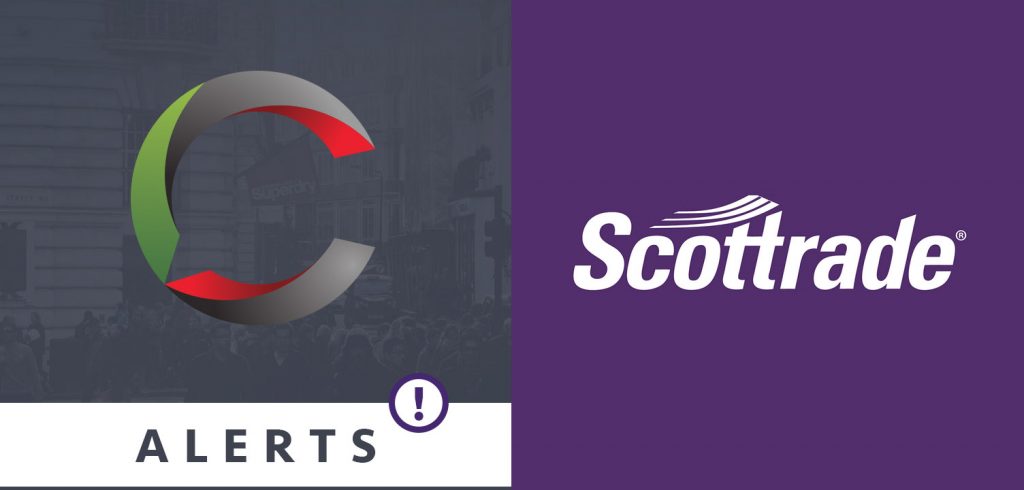 ST LOUIS – August 2, 2016 – Scottrade, Inc., a leading financial services firm, today released a powerful social media intelligence platform for its trading clients on the ScottradeELITE platform. Scottrade is working with Contix, the leading social media event detection platform focused exclusively on trading, to provide real-time breaking news alerts surfaced through social and traditional media. As more market-moving news breaks on channels such as Twitter, Scottrade clients can now make more timely and informed trading decisions using these specialized social alerts.
Scottrade provides the Contix social and traditional media sourced alerts inside of the ScottradeELITE platform. The tool surfaces specialized news for traders and investors by monitoring and analyzing over half a billion social and traditional media posts each day and pushing real-time alerts of the very earliest mentions of breaking financial news events. Contix acts as a credibility filter for Twitter, providing actionable trading information. Rather than relying on the volume of tweets about a topic or company, it rates the source of that news. From this foundation, our clients can create custom alerts based on their own trading criteria. The tool is offered at no charge for two weeks within the ScottradeELITE platform. Scottrade clients who subscribe will receive a discounted rate from Contix and 20 free trades from Scottrade.
"We're always looking for additional innovative and valuable tools that can help our clients," said Brian Bachelier, Scottrade vice president of active trader strategy. "By making Contix alerts available within ScottradeELITE, we're placing a powerful tool in the hands of our traders at a time when news is increasingly breaking on social media channels. Our clients demand the most sophisticated technology and analysis on the market."
Ryan Bailey, CEO of Contix, notes, "Scottrade is a forward-thinking firm and we're thrilled to have helped them become the first brokerage to roll out enterprise-grade social media intelligence for their clients. Working with Scottrade validates how important social media event detection is to trading strategies."
Contix is the leading social media event detection platform exclusively focused on trading. For more information, visit www.contix.com.
About Scottrade, Inc.
A leading financial services firm founded in 1980, Scottrade's mission is to improve lives by helping people overcome barriers to financial success. Through a large, nationwide branch network, Scottrade works with millions of clients, offering them the solutions and support they need to take control of their long-term investing and trading needs. To learn more about Scottrade, visitabout.scottrade.com, www.scottrade.com or talk to us via social media. Member FINRA/SIPC.
About Contix
Contix is the leading social media event detection platform focused exclusively on trading. Contix delivers actionable alerts on market-moving news surfaced from social media and traditional media sources. The company's unique event categorization technology clusters related news from social and traditional sources to maximize breaking news coverage and place news in market context including price, trading volume, discussion volume and sentiment. Working with both institutional and retail clients, Contix helps traders act on breaking news events to generate alpha.
Media Contact:
Binna Kim, Vested
contix@fullyvested.com
646.747.3223